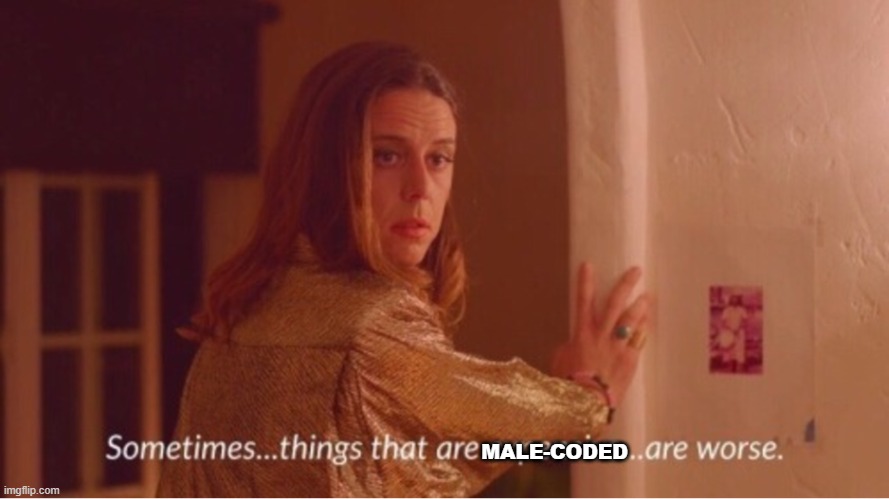 Editor's note: I have a cup of coffee about three time a year. When I was writing this was one of those times. I decided to leave it punchy.
So I have an axe to grind, and it's about linguistic tags (no don't go, this is going to be interesting I swear). I've seen some variation of the following advice in countless places of late (and for some time honestly, although I think Lean In feminism accelerated it). The advice goes: women more frequently add tags like 'if you see what I mean', 'if that works for you', 'don't you think' on the end of their statements, and they need to stop. These tags on the end of sentences function to soften commands, seek clarification, confirm understanding, and build consensus. You know, pussy shit. If women were more assertive and didn't worry about whether or not their colleagues *checks notes* actually understand and agree with them they'd get farther ahead. I don't know. Maybe that's true, but it's also completely corn-holed (I also suspect it really isn't true. I suspect women who stop using these tags at the office at best begin to be perceived as 'less helpful' and 'harder to deal with' and at worse as 'the office bitch', even though it is just modelling the behaviour of their male colleagues. It's a rigged game, babes. You can't lifehack your way through the glass ceiling). The thing is, if the point of communication is indeed to transfer the things that are in your brain into the brains of other humans, these types of tags are better for communication. Just objectively better at allowing you to communicate meaning between multiple human beings. They are certainly better for project management. Checking for understanding and building consensus are essential to getting a group of people to complete a project together, and the truth is, women in business doing this is the only reason those businesses get shit done. That they don't adequately reward or even acknowledge the value of this work is a problem with the system, not the women. If women do tend to use these tags more it doesn't mean they should stop, it means men should start. Why should we sink to their level when nothing is stop them from getting up to ours?
But, dear reader, this is yet one example of an entire system of thinking that many if not most feminists aggressively co-sign where if a thing is traditionally gendered, the masculine version is assumed to be the good one and the feminine one is the one we should throw away like steaming hot garbage. It's very often not though. Action figures instead of fashion dolls? Half the time their clothes are molded on so if the character gets a new outfit you have to buy a whole new doll. What's good about that? Those cross-bars on bikes? Make it harder to get on your dang bike.
How about Home Ec? In my mom's day, girls had to take home ec, which taught you to cook, plan menus that were both healthy and within budget, balance a check book, mend your clothes, make clothes even, properly clean your home; you know useless shit, right? Complete girly bullshit. Obviously not, obviously these are actually very, very important skills that my generation suffers for not having learned. In the name of women's liberation girls were no longer required, or even suggested, to take home ec, increasing numbers of schools cut it out of the curriculum all together. Which, like, I get it. The idea that a woman's only job and highest calling was to take care of the home was insulting and limiting (and the idea that a girl would grow up to be a homemaker and never work outside the home was always totally untrue for working class women and most women of colour). Thing is though, those are still essential skills, and now instead of only women having them, no one does. We're all just out here desperately hoping to find the youtube channel that will teach us how to fix our lives. Here's my hot take: we would have done way more to liberate women from the second shift by making Home Ec mandatory for everyone regardless of gender, so that everyone knows how to run a household, than we managed to do by just pulling it from schools. It wasn't ever a waste of time just because it wasn't something masculine-coded like STEM. And also, STEM fields are valuable, and girls should be in STEM if that's where their interest and talent lies, but the Humanities are also valuable. I mean, did you know you are a human*? Really makes you think.
So okay, this has been a rant, but I do have a point. Femineity has been imposed on AFAB people, sometimes with extreme force, for much of western history, and I'm against that. But it's the imposition, the lack of choice, that's the problem. And yes, some of these trappings of the feminine were imposed because they materially perpetuate the subjugation of women, like jeans with pockets you can only get your hands in up to the first knuckle. Despite all of that, the feminine version of any given gendered thing is not automatically the bad version. The assumption that it is comes from patriarchy, and it brings all of us down. Sometimes it brings us down because the feminine version is better, and people of any gender could benefit from it and/or enjoy it**, like home ec or making sure everyone is on the same page with simple linguistic tags. Sometimes, there's no better version. I prefer Drag Race to WWE, but that doesn't make it better. I can admit that. Guy stuff is fine, and men/mascs should be able to enjoy healthy masculinity without censure. But the idea that women should have to adopt masculinity to achieve liberation is simply bullshit.
*Apologies to any intelligent orangutans or aliens who the 2022 edge of our radio bubble has reached
** Skirts are, in most contexts, better than trousers. Fight me